I'm thankful for many things in my life.  I have a wonderful family, great friends, and I am in good health.  But this blog is about living in Downtown Austin, so I'm not going to bore you with all that mushy stuff; I'm going to talk about Downtown Austin and my top eleven (everybody does top 10, which is soooo Letterman, if you ask me) reasons I'm thankful for living here as opposed to other places.
*
11.  I am thankful for our historic buildings, which give our city character and roots.
*
10. I am thankful for people watching and the fact that downtown Austin is a place where people want to be.
*
9. I am thankful for the lack of yard work, because I suck at it and I hate it.
*
8. I am thankful for the feeling of neighborhood and comradery. Downtown Austin has a small town atmosphere, where people know each other. I run into several people I know throughout the course of my day, and it's always a pick-me-up to share a wave or have a quick chat with a neighbor.
*
7. I am thankful for cool boutiques, where I can buy things like glow-in-the-dark jellyfish.
*
6. I am thankful for the availability of unique living spaces with high ceilings and huge windows.
*
5. I am thankful for relative carless convenience.
*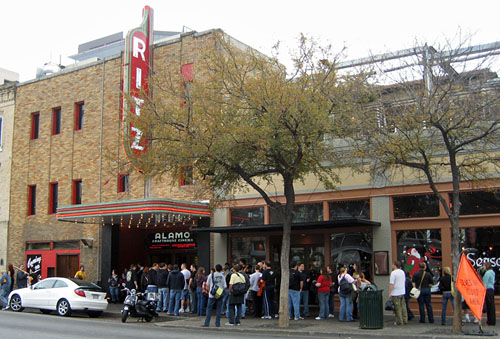 4. I am thankful for The Ritz, and being able to order a vodka tonic while doing a Michael Jackson sing-a-long with 10 of my closest girlfriends.
*
3. I am thankful for Town Lake/Ladybird Lake.
*
2. I am thankful for a reserved parking spot, which means I don't have to find (or pay for) parking during South by Southwest.
*
1.  I am thankful for the nearby concentration and variety of services like restaurants, theaters, art galleries, coffee houses, bakeries, neighborhood stores, the library, and art museums. (To search a neighborhood directory click here.)
….
Happy Turkey Day, everybody!